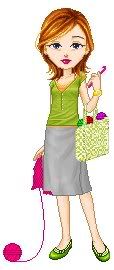 Make a doll!


Hi I'm Natalie, and this is my blog! I'm 23, and live in New Zealand. I'm an avid crocheter (some would say rabid)! I dabble a little in felting, knitting, dying, and spinning too.
Steal my button!
[and by that I mean save it to your own space :)]

Knitting Olympics
Free Patterns
BlogStars!
Friday, October 27, 2006
Hey everyone, I've had a bit of trouble wht this blog. For starters I've been ridiculously busy with my thesis and haven't even made all that much lately. The other issue was that when I tried to log in a couple of times a few months ago - it wasn't letting me.

So - if anyone is reading this - I'm well, just super busy. I am planning to create a new blog at some point as I've just gotten back into sewing.

I've been trying to post my things on Craftster but that hasn't happened too much either. I'll keep this blog up, as my patterns are really there for my own use anyhow :)

xxoo N

Posted at 12:25 pm by spuggly
Permalink
Saturday, April 08, 2006
I love my mum, I love my dad!
My ma and pa have shouted me the yarn for the jacket! I'm so happy!!! I'd managed to put together a budget that let me afford it (it's nearly three times more than my most expensive project to date, but I don't think I'll be disappointed!) and it puts $70 back into my travelling and spinning wheel funds.
It's the Naturally Tussock 8 ply, colour 275. It's a deep purple, and it's plied with a polyester slubby/tweedy thread, that has different colours in it. I'll post a good scan of it when I've got it. Unfortunately, they only had 6 balls at the store, and I need 8. They are getting some down from Christchurch, and mum and dad paid for it in advance, so all I have to do is pick it up when it arrives! I can't wait, pretty purple jacket!! Perhaps there'll be enough to make a matching felted rose pin, as crocheted roses don't take much yarn
I guess I'd better get onto all of the WIPs I have going - so I can work on my jacket without guilt ;)
I've heard that it makes up quickly, so that'll be lovely!
Natalie
Posted at 05:56 pm by spuggly
Permalink
Friday, April 07, 2006
Okay everyone, I'm picking yarn for the Prepster Jacket this afternoon (see prior post for bad quality pic of the article in question)!!
Hopefully will blog tonight, but to give you all a little taste of what I'm considering, head over to Tussock 8ply, over at Naturally Yarns. Probably purple, but I haven't totally chosen yet.
Yum!
Natalie
Posted at 09:48 am by spuggly
Permalink
Sunday, March 19, 2006
Now, excuse the poor photography. Blair's camera hates to do close ups, not to mention that it's under artificial light and I had to turn the flash off because the glare obscured the piccie.
This, my friends, is what I want to make, right away, from the Happy Hooker.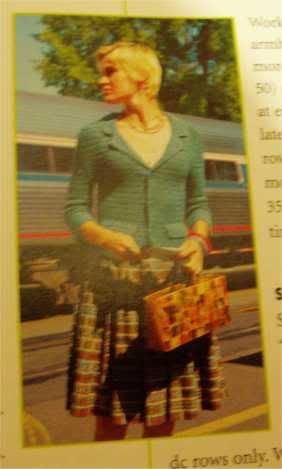 That little jacket would look so cute on me *sigh* but it'll be awhile before I can afford the yarn. I'm selling some stuff on TradeMe though, so it's possible that I could have a few spare dollars in a fews weeks. I hope so!
Natalie
Posted at 11:06 pm by spuggly
Permalink
Saturday, March 18, 2006
I got Debbie Stoller's The Happy Hooker book in the mail today. I've read through it and just have to say there are so many things I want to make in it. Like right away. Unfortunately I have quite a few birthdays around now, and I'm poor... I guess I won't be making any of them any time soon, but a girl can dream!
I'll do a proper update on it later, I just had to share the news!!!
Natalie
Posted at 03:13 pm by spuggly
Permalink
Saturday, March 11, 2006
Dyeing - a navy blue skein
And here is a skein I had fun dyeing the other day. I was wanting to see if I could make a nice navy blue, and I think I did :
Basically, I mixed up a nice bright blue, then muted it with orange until it was almost greeny. Then I added black to darken it. Then I added a couple of splashes of dilute citric acid and added it to a large soup pot of heating water.

I've been using citric acid instead of vinegar recently. Since Blair now doesn't work Sundays, he's often here when I'm dyeing, and he can't stand the smell of warm vinegar [me, I love it. But then, I also like the smell of permanent markers and nailpolish...]. I managed to get hold of some universal indicator paper, and worked out that about half a teaspoon of citric acid (that's 2.5cc) to a litre of water was the same pH as white vinegar, and it's worked like a charm!

The yarn was a cream coloured 8ply super-wash. That's 100g of it there, but I also dyed another 100g hank at the same time. Before dyeing, I soaked it in warm water with a dash of dilute citric acid until it was translucent.

I had the dye pot on the stove, with the element on low, and when it was hot, I began dyeing.

I got it variegated by dipping the whole hank into the hot dye pot, with the element on low, but only letting a little of the dye take (just a minute or so). Then I lifted a third of the hank out of the water and tied it around a wooden spoon that rested on the rim of the pot, so it was suspended above the dye. The I let the bottom of the hank take the dye for about 5 minutes. Then, when the wool was the shade I wanted for the middle tone of the hank, I lifted the middle thrid out of the dye, and wound it around the wooden spoon, so that only the last third of the wool was still in the dye. And I left it until it was dyed the darkest colour I wanted.
I find that this method is best done with a lot of dye! The dye bath was no where finished exhausting when I'd finished dyeing. That way, there's loads of dye to make the divisions between the colours. If you only add a little dye to begin with, you may have to put some more colour in, and it may not end up being the same colour as before.
I love colour!!
Posted at 08:59 am by spuggly
Permalink