And I could finally share some of my Christmas pressies with you guys!
These, I gave out on Saturday night: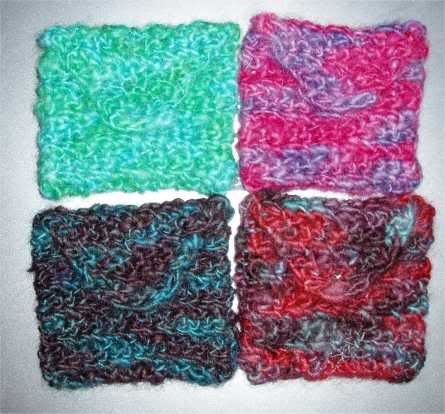 They were for (clockwise from top left): Amy, Karen, Mya, Nicky
They are little coin purses made from my handspun, and then dyed. My little chickens did like them, and in fact Nicola's is just the right size for her camera. Well done me ;)
They also have little labels sewed into them, but I forgot to take a piccie :( maybe next time.
Also, another little bit of HookStars trivia, that pink one (top right) was the wool I wanted to dye pink when I discovered Hansell's dastardly plan. The bottom left one was made using the new Hansell's red food colour. See how different the reds are? Colour 123 makes a nice bright fushia, and 124 makes a very bright blood red. See where I'm coming from? [on a side note, I've found some powdered 123, so I'll have to have a play with that after this Christmas madness dies down].
And that's all folks! I'm trying desperately to get everything ready for Sunday, and I still have a lot to do, not to mention the people I have to catch up with...
But, rest assured that I'll have something kinda neat to share after the weekend. So, have a good day everyone (even those of you that don't celebrate Christmas) and for all you Kiwis and Aussies [especially you, Mya, it doesn't look like we'll be getting any sun :( ], Slip Slop Slap! I don't want to see any beetroot red faces when I come back ;) and a tan isn't worth the cancer (says the whitest chick of all...)
Natalie
Posted at 07:38 am by spuggly
octopusgrrl


December 26, 2005 09:32 AM PST



Those coin purses are wonderful! Love the colours. Hope you have a very merry Xmas too!
Manasi


December 28, 2005 12:03 PM PST



Lovely purses! Your singles add so much character to them!
Trish


December 29, 2005 03:14 AM PST



Oh these are so adorable! Bet you made up the patterns as you went along too :O)

Pea green with Jealousy :O)
Natalie


December 29, 2005 08:11 AM PST



I had an awesone Xmas, and thanks for the lovely comments.

I'm planning on blogging how I made them, so just wait and you too can make some :)
belstaff jackets uk


September 15, 2012 10:56 PM PDT



This is really a extremely beneficial read for me, Have to admit you might be 1 in the most effective bloggers I ever saw.